English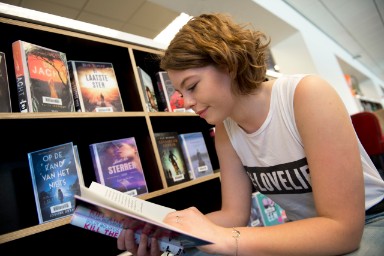 Welcome at the library of Veldhoven! Visit the library and discover our extensive collection of books and other materials. Also, we have Dutch language courses and a broad variety of books in foreign languages.
Borrow materials
Would you like to borrow materials? You can register as a member at the library. We only need a valid identification card. As a member you can borrow items from the following materials:
Novels (Dutch, English, French, German, Spanish)
Informative books
Comic books
Magazines
Audiobooks
Daisy-roms
Sheet music
Films and series on DVD
Courses
E-readers
Loan period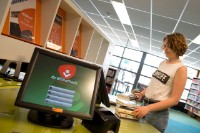 The loan period for all materials is three weeks, with the exception of a Plus-membership. With this membership you can borrow unlimited materials for as long as you want.

By renewing your items before the due date, you may avoid fines and extend your borrowing time on selected items.
There are several possibilities:
• Log in at Mijn Bibliotheek and choose 'Mijn gegevens en verlengen' (My data and renew)
• At the library with your library card
• By phone: 040-253 29 01 (€ 1,- per card)
When you renew the loan period for materials subject to a lending fee, you will have to pay the lending fee again. We charge fines on overdue materials to encourage patrons to return items on time. If you do not return the material you will receive a reminder after six weeks and if you still fail to return any items a replacement cost will be levied.
Download the Library app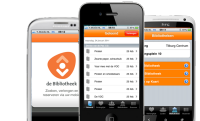 Members with a smartphone can download this free application.
You can download it from the App Store and Google Play (Android).
With this app you can easily reserve and renew materials. Also, you get a message when you have to return the materials.

E-books
As a library member you can also borrow e-books. To do so, you have to register at the e-bookplatform.
Log in as a member at the online Bibliotheek. Choose 'Pasnummer'.
'Pasnummer': Fill in your library card number (20393...). 'Pincode of wachtwoord': Fill in your date of birth (for example: 01/01/1980)
After you filled in the form with your personal data, you recieve a conformation e-mail. Click on the link in this e-mail.
Now you can log in and borrow e-books!
Magazines and newspapers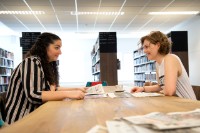 The newspapers and the most recent magazines are available for every visitor. You are free to sit down and to take yourself a cup of tea or coffee while reading the papers.
Computers, Internet and WiFi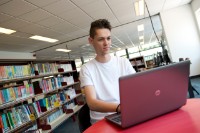 De Bibliotheek Veldhoven offers free wireless internet (WiFi) at all areas. You will also find computers that offer access to the Internet, electronic databases, library catalogues and Microsoft Office. The use of these computers is free for library members. Non-library members can also use the computers, they pay for the use.
Tourist information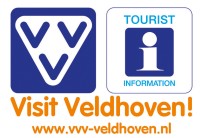 In the library you will also find the Tourist Information, VVV Veldhoven. Here you can buy presents, maps, biking and walking routes and a selection of gift vouchers: dinner-cheques, theatre-cheques, cinema-cheques and many more. But our main goal is to inform you about the touristic topics in our region.
Veldhoven Library is looking for volunteers for 'Café Français'
Café Français is an activity for people with a passion for the French language who want to improve their speaking skills in French. They meet in the Veldhoven Library, where they discuss various current topics in groups. For the meeting on the second Thursday of the month, from 2:00 pm to 3:30 pm, the Library is looking for enthusiastic moderators (m / f). Are you from France or are you fluent in French? And do you enjoy creating a cozy atmosphere at the conversation table and encouraging other people to practice their French? Then join the Café Français team!
For more information, contact Carina van Uden: c.uden@bibliotheekveldhoven.nl or tel: 040-2532901.